Is becoming a doctor your lifelong dream? Find out why now is the best time to pursue your medical degree and how Xavier University School of Medicine in Aruba can be your pathway to an exciting and rewarding future in this in-demand field.
Meeting the demand
The demand for doctors in the United States is greater than ever before. As the aging population outpaces the supply of doctors, there's never been a better time to pursue a medical degree.
According to a recent report published by the Association of American Medical Colleges (AAMC), the U.S. may experience a physician shortage of between 37,800 and 124,000 by 2034. Even more concerning is that one-third of all doctors who are currently practicing in the U.S will be reaching retirement age over the next decade—if and when they decide to retire. And with our nation's aging population getting older, having access to healthcare will become even more challenging.
How Xavier Has Your Back Every Step of Your Journey
Xavier is the smart choice for aspiring doctors who are seeking to pursue a medical degree in a supportive, world-class environment. As a fully accredited medical school, Xavier offers a host of benefits that include a curriculum modeled on the U.S. system, top-notch facilities and equipment, small class sizes and a team of experienced and compassionate faculty members—just to name a few. Discover how these exceptional benefits play a crucial role in empowering Xavier graduates to excel in their studies and emerge as successful physicians.
Fully Accredited
You wouldn't settle for a medical degree that doesn't pave the way to residency, would you? . Think about the immense effort, time, and financial investment you put into reaching this point. It's crucial that the medical school you choose holds proper accreditation, enabling you to secure a residency in the U.S. Therefore, if you're contemplating any unaccredited schools, it's advisable to remove them from your list without hesitation! Xavier is among a select few Caribbean medical schools that is fully accredited by the Accreditation Commission on Colleges of Medicine (ACCM). This means that requirements set forth by the Educational Commission on Foreign Medical Graduates (ECFMG) for an internationally-recognized medical accrediting agency have been met.
Beginning in 2024, anyone who applies for ECFMG certification must be a student or graduate of a medical school—such as Xavier—that is officially recognized by the World Federation for Medical Education (WFME). ACCM gained WFME recognition until December 31, 2026, thus making them fully compliant with ECFMG's accreditation requirements. You can learn more about these requirements here.

A U.S. modeled curriculum with personalized attention
Seldom do you come across the combination of "personalized attention" and "medical school" in a single statement. However, at Xavier University, we prioritize both. With our remarkable 6:1 student-to-faculty ratio, students benefit from an intimate classroom experience where individual attention is emphasized. Moreover, our curriculum is meticulously designed to mirror the U.S. system, ensuring a seamless transition for our students. At Xavier, we believe in offering the best of both worlds—a nurturing environment that fosters personalized growth and a rigorous educational framework that prepares students for success.
A Community You Can Count On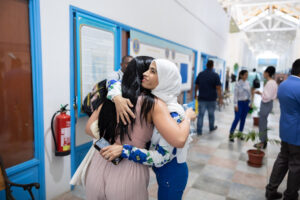 One of the main reasons why students say they choose Xavier is because of the kind, helpful nature of faculty and staff who truly care about their success. The curriculum is modern, innovative, and dynamic, which prepares students to become highly qualified and successful physicians, both in the North American healthcare system and throughout the world. This diverse and comprehensive medical education not only incorporates both theoretical and practical training but allows for more opportunities to work hands-on with the faculty. It's all part of our dedication to providing a world-class education. Did you know that Xavier also offers a pre-med program so students can start the medical degrees straight out of high school? Get the full scoop about our pre-med program.
U.S. Clinical Rotations
Over the years, Xavier has established several relationships with Accreditation Council for Graduate Medical Education (ACGME)-approved teaching hospitals and medical centers throughout the U.S. where our students complete their residencies. It's this type of commitment that is reflected in the strong relationships we've built to provide our students with core rotations that not only provide unprecedented real-world medical experience but help them select their specialties down the road. View a list of the most current facilities we work with.
Alumni Global Meet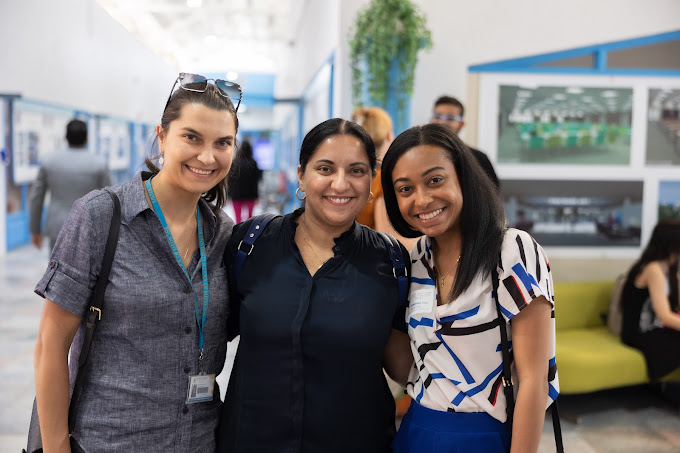 Only at Xavier can you experience Alumni Global Meet, an exclusive and unique alumni program that educates students on how to gain a competitive edge in the residency application process. It's an exciting and informative time for students to network, share experiences, and learn new techniques and industry trends from Xavier alumni. This year, we are excited to host another great Global Meet event in May, which fosters relationships that last throughout students' medical careers.
Match Day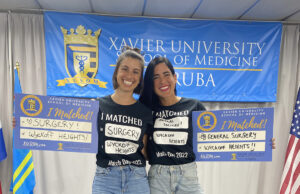 Looking for a medical school that has proven results? Xavier is proud to announce that in 2023, nearly two-thirds of the graduating class matched for residency. Match Day is undeniably one of the most important—and stressful—days in a medical student's journey to becoming a doctor. Officially held on the third Friday of March, it's the day when medical students discover where they will be doing their residencies over the next several years. Xavier helps students prepare for Match from day one and our high match rate every year reflects that.
Affordability
Yes, attending medical school is expensive. But were you aware that choosing Xavier—over other accredited Caribbean medical schools—can save you thousands of dollars in tuition costs? In fact, Xavier is the most affordable, fully accredited and New York state approved medical school in the Caribbean with the four-year tuition cost coming in at $189,100. In addition to flexible financial aid options, Xavier is proud to offer 15 different scholarships to high-achieving and qualified students to help make attending medical school more affordable. The Shaping Xavier Scholarship offers full tuition scholarships as well, which many other Caribbean medical schools don't offer. Medical school is starting to sound much more appealing, right?
Learning in paradise
Who wouldn't want to live in Aruba? We're not saying medical school is easier here, but the warm weather, beautiful beaches and happy people certainly make it more pleasant! And were you aware that Aruba is one of the safest islands in the Caribbean, takes U.S. currency and rarely gets hurricanes?
New residential campus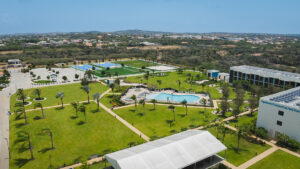 Our new residential campus is pretty awesome! Recently renovated in 2021, we built this campus to make Xavier students' time in Aruba as comfortable and pleasant as possible. We also understand the importance of carving out some downtime.
So, when you're not in class or studying, you can enjoy the amazing amenities that have been designed with the success of our students in mind. Here are just some of the luxury amenities on our new residential campus:
Fully furnished two-bedroom suites with balconies
Full-service cafeteria
Outdoor recreation area
24/7 security
And so much more!
Check out our video to see it for yourself!
New academic campus: opening fall of 2024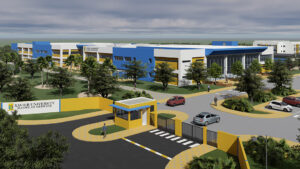 We are thrilled to announce the construction of our new academic campus which is located directly next to our residential campus. Set to open in the fall of 2024, this $70 million academic complex will allow Xavier to expand academic programming and educate more students. Check out the renderings and note some of the amazing features:
Theater-style auditorium
Study areas of all size groups
State-of-the-art classrooms and labs
Research facilities
Seminar rooms
A new library
Student lounges
Walk-in clinic
New veterinary medicine program
Is your passion caring for animals? Then become a part of the inaugural class of Xavier's new veterinary program, which is set to begin in the fall of 2024. You can earn your Doctor of Veterinary Medicine (DVM) degree and enjoy all the same benefits and academic excellence as our medical school students. Plus, all students who join this inaugural class in the fall season of 2023 will receive a scholarship! Learn more about the new vet program.
The first step of living your dream begins at Xavier. Let our years of academic excellence and commitment to our students' success be the steppingstones to your future career as a physician. Apply today!