At Xavier University School of Medicine, we follow a 360° holistic approach in our selection of students for admission. We go beyond simply reviewing academics to consider candidates in full. This includes their life skills and experiences, their personal attributes and capabilities, and who they are inside and outside of the classroom. Why? Because such key factors impact the learning experience for all, and we strive to select those who bring positive energy and contribute greater value to the school.

Admissions Guidelines
Application requirements for prospective students include previous coursework, various other documentation, as well as writing samples. We consider the candidate as a whole, and this practice has led to great success — for both them and for Xavier.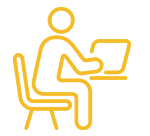 Application Process
Good news! There is no application fee to apply to Xavier. We are committed to providing an accessible and affordable medical school program. Applications are accepted on a rolling basis for all three of our semesters, which commence in January, May, and September, respectively.
Admissions Events
In order to locate the finest candidates, Xavier participates in recruitment events throughout the world. We also host webinar sessions across a variety of topics. Our calendar outlines these events as well as how to register for each.