Congratulations on your acceptance to medical school! Your journey to becoming a doctor is about to begin. If you are feeling a range of emotions, don't worry. This is perfectly normal. After all, it's unchartered territory and will most likely be the most challenging—and most importantly rewarding—experience of your life.
In this blog, we offer information and tips for making the transition to medical school as seamless as possible. Who better to learn from than those who came before you? We'll introduce some first-year Xavier University School of Medicine medical students and hear about their experiences transitioning to life in Aruba and joining the Xavier family.
New Student Perspectives
Arjun Malhotra—Odessa, Florida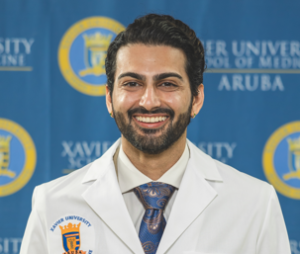 "Moving to Aruba and undertaking a challenge like medical school is a difficult task to take on, but the faculty, staff, and current students at Xavier made it so much easier to handle the transition. With their assistance, I feel very prepared to complete medical school successfully and enter the workforce as a qualified and skilled physician in the coming years.
The fear that I had prior to coming to Xavier is now totally gone. I feel at home now at Xavier and in Aruba. I am prepared to do well for the next four years of medical school. I am extremely grateful for the help we've been given as an entering class and I'm looking forward to the rest of my time here at Xavier University School of Medicine."
Niavanni Flowers—Griffin, Georgia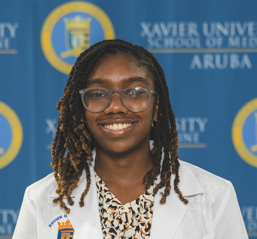 "I appreciated that the school had current students waiting for my arrival at the airport. Being able to talk to students first hand upon arrival made me feel very comfortable. I was aware of the process from the airport to the residential housing and felt like I was in a safe place.
Coming into my first week of classes, I was very excited to get started and learn. I appreciated all the classes starting at a college level about the material. It was a great refresher on content before learning MD material. Going into the rest of the semester, I feel prepared to succeed at Xavier University School of Medicine."
Adam Khalid—Newark, Delaware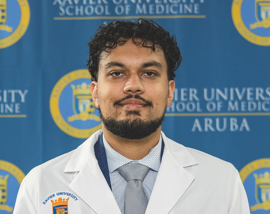 "The move-in process was very smooth for students. The staff delivered our bags directly to our rooms, we obtained our student IDs right away, and we received a "welcome" bag with a binder full of information and some snacks and drinks to get us started. Little details like that make a huge difference.
Orientation was a great experience. One of my personal favorite parts about orientation week was getting a tour of Aruba, and seeing all the things that make the island so amazing. It was a lot of fun!
But the best part of orientation week for me was definitely the White Coat Ceremony. Putting on that white coat for the first time, I soaked it all in. It made my journey to become a doctor very real and proved how attainable it is at Xavier University School of Medicine."
Masahib Bhatti—Ontario, Canada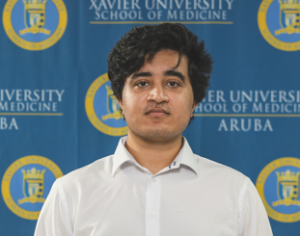 "As a new pre-med student, I arrived on the picturesque island of Aruba with a mixture of excitement and nervousness. I was immediately put at ease, however, by the warm welcome I received from faculty and staff, coupled with the stunning surroundings of the island.
Orientation was an eye-opening experience as we learned about the extensive curriculum and the commitment that is required to excel in the field of medicine. The support and guidance from professors and academic advisors reassured me that I was in the right place to pursue my dream of becoming a doctor. Even more so was the emphasis on teamwork and camaraderie among students, which helped to ease my transition, fostering a sense of belonging with the Xavier community.
The Pre-Med Program has challenged my intellect and pushed me to new heights of dedication and discipline. Overall, Xavier University School of Medicine has proven to be an exciting and rewarding place to pursue my pre-medical education. I am eager to embrace the challenges and opportunities that come my way as I work toward my dream of becoming a physician and starting my career in Canada."
The differences that make a difference
You worked hard during your undergraduate years, and it has paid off. You're off to medical school! Although you may have been preparing for this day for the last four years, there are some important differences about medical school that you should be aware of going in. Some of these differences include:
A different style of learning—In undergraduate coursework, most classes are unrelated and stand alone. This is in stark contrast to medical school, where topics and classes have interrelationships and build upon each other.
Memorization—You obviously have a good memory. (After all, you had to memorize a great deal of information for your undergraduate work.) In medical school, however, your memorization will be put to the test as you'll need to recall and apply a demanding amount of detailed and complex information.
 Smaller class sizes—Unlike undergraduate school—where students can feel like they are lost in the crowd of a lecture hall—Xavier University School of Medicine has smaller classes, so students receive more personalized, hands-on attention to ensure mastery of concepts.
Helpful tips for a successful transition to medical school
Preparing for medical school can be overwhelming. Considering all there is to remember, certain points may get overlooked. According to the Association of American Medical Colleges (AAMC), there are important steps to take before attending medical school orientation. These include:
 Update your wardrobe—Some institutions have a dress code, especially during clinical rotations. It's a good idea to find this out as soon as possible so that you can update your wardrobe with clothes that are professional, comfortable, and washable.
Spend time with family and friends—It would be an understatement to say that the following few years will be busy. Take this time to spend time with family and friends before your schedule becomes filled with classes, events and studying.
 Reflect on the journey ahead—Spend some quality time with yourself and reflect on your accomplishments and what lies ahead on your journey to become a doctor. Remember that it's important to take care of yourself—your health always comes first!
Is attending medical school your lifelong passion? Let our years of academic excellence and commitment to our students' success be the steppingstones to your future career as a physician. Check out our helpful school overview video and apply to Xavier University School of Medicine today! Have questions? Schedule a virtual 1:1 meeting with our Director of Admissions now.