An Honorable Journey: How Veterans are Pursuing Medical Careers at Xavier
Transitioning from the Armed Forces to medical school is an exciting time for veterans. Among other points, their time in the military has already prepared them for a disciplined and rigorous lifestyle. So, the question comes to mind: "What has inspired them to pursue a future in medicine after their military careers?
In honor of Veteran's Day, Xavier University School of Medicine in Aruba is pleased to spotlight two of its student veterans who are on a journey to pursue their medical degrees. Read on to learn their inspiring stories about how they transitioned from the armed forces to becoming medical students at Xavier. Their stories will also demonstrate how Xavier's medical program and welcoming community is ideal for veterans.
Megan Kotsko—Chesterfield, Michigan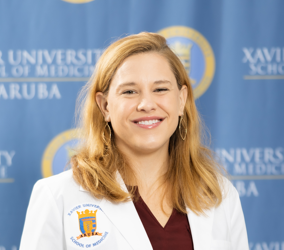 Born in Chesterfield, Michigan, Megan Kotsko said she always knew she wanted to work in medicine. In 2010, she graduated from the University of Georgia with a Bachelor of Science degree in Biology. During her time there, she was commissioned as a second lieutenant into the U.S. Army Medical Service Corps via the university's ROTC program. From 2008 to 2017, she served in a reserve of National Guard status in Georgia and Michigan. While pursuing a master's degree in 2019, Megan transferred from the National Guard to the U.S. Army Reserves. "While studying for my master's, I went on a two-week medical mission trip to Guatemala," she said. "What I saw there changed my life. There was a female OB-GYN who worked in the village. Women and children lined the streets to speak to her. At that moment, I saw the importance of what it meant to be a woman in medicine and the impact it has on other women. It was then that I decided to become a doctor." After graduating with her master's degree, Megan worked in active status within the Army Reserves as a medical operations captain at the 330th Medical Brigade in Ft. Sheridan, Illinois. Shortly after this assignment, she was mobilized for COVID Response from Fort Sam Houston, Texas through 2021. Megan applied to Xavier with the goal of pursuing her new dream of becoming a doctor. "Receiving the Veterans Scholarship is extremely helpful in financing my degree," she said. "The university offers several scholarship opportunities, and I'm grateful they offer one for veterans."
Today, Megan continues to serve in reserve status for the U.S. Army as a major. "On our school breaks, I fly to Fort Carson, Colorado, where I work in a hospital. My wish is to one day be a doctor in the U.S. Army."
Simplice Tagne—El Paso, Texas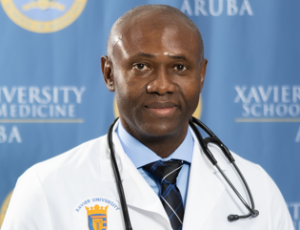 Born in Bayanga-Cameroon, Africa, Simplice Tagne emigrated to the United States in 2007. Two years later, he enlisted in the United States Army, where he completed his Basic Combat Training and Advanced Individual Training (AIT) in Fort Leonard Wood, Missouri. He stated that his first station of duty was at Fort Bliss, Texas followed by three years of conducting missions in New Mexico and the National Training Center in California. It wasn't until 2018—six years after his service—that Simplice decided he wanted to become a doctor. "As someone with a disability, I know what it's like to live with pain," he said. "I want to use my emotional intelligence in the medical field to heal others with compassion." Passionate about his decision, he enrolled in the Pre-Medical Program at Massachusetts College of Pharmacy and Health Science, where he studied for the next four years. Thinking about where he would attend medical school, Simplice explained that the decision was an easy one: "One day, my friend—who was a medical student at Xavier—called to tell me about the university," he said. "After hearing about Xavier's accreditations and the Veterans Scholarship, I applied without hesitation."
As a dedicated family man, Simplice is married and has seven children and three grandchildren—all of whom live in the United States. "Four of my children and two of my nieces are currently serving in the United States Army," he said proudly. After his military service, he knew he could conquer just about anything—including the rigorous coursework ahead of him in medical school. "The military has instilled in myself the value of selfless service, discipline, teamwork and personal courage," he said modestly. "Thanks to Xavier and the Veterans Scholarship, I'm one step closer to living my dream as a doctor." He said that although his family currently lives in El Paso, Texas, he hopes to someday move to Boston, where can open his own practice to treat patients from diverse backgrounds.
Are you a veteran with a dream of becoming a doctor? Let our years of academic excellence and commitment to our students' success be the steppingstones to your future career as a physician. Check out our helpful school overview video and apply to Xavier University School of Medicine today! Have questions? Schedule a virtual 1:1 meeting with our Director of Admissions now!